"Fragrance is all about trying to communicate emotion."

~Ron Rolleston
Lamps and Fragrances
It's love at first scent! For over a century, people have fallen in love with the elegant beauty and awe-inspiring scents of the Lampe Berger, that's a tiny catalytic burner disguised as a timeless work of art, that not only cleanses the air, but rejuvenates it with an assortment of enchanting luscious fragrances. If seeing is believing, close your eyes, breathe in and tell us what you see!
Purchase 10 fragrances and receive 1 additional fragrance for FREE. *
*Offer excludes 10% fragrance of the month discount and any other discount coupons.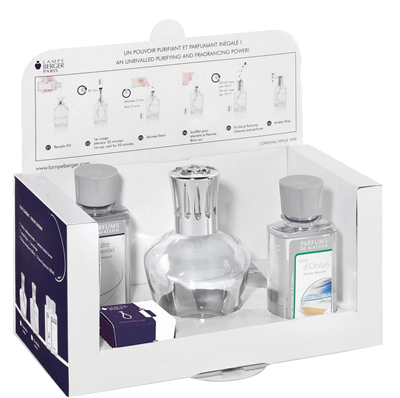 Essential lamp kits start at $48.95.
Here is a list of the fragrances we carry:
Absinth Daydream
Amber Elegance
Amber Powder
Aquatic wood
Subtle Almond
Atlantic Tide
Charleston
Citrus leaves
Cotton Caress
Crème Brulee
Exotic Cocktail
Eternal Sap
Festive Fir
Forest Mist
Under the Fig Tree
Vanilla Gourmet
Velvety Suede
Green Chai
Harvest Season
Heavenly Spruce
Hibiscus Love
Home Sweet Home
Precious Jasmin
Lavendar Fields
Lemon Bubbles
Lemon Flower
Majestic Sequoia
Mineral Oakmoss
Fresh Mint
My First Fragrance
Virginia Cedarwood
Luxurious Venice
Miss Violet
Winter Joy
Fresh Eucalyptus
Fresh Green Grass
Fresh Linen
Fruit Melody
Grapefruit Passion
Green Apple
Winterwood
Wild Wood
Zest of Verbena
New Orleans
Ocean Breeze
Orange Blossom
Orange Cinnamon
Extreme Orange
Wild Orchid
Paris Chic
Wild Berries
Sweet Pear
Pumpkin Delight
Pure White Tea
Radiant Bergamot
Red Berries
Timeless Rose
Precious Rosewood
Enchanting Sandlewood
Savory Apple tart
Sensual Bouquet
Snowy pines
Soap Memories
Springs of Mekong
Summer Rain
Borneo Teakwood
Fresh Wood